Global Contacts and Organization Profiles
See key data at the individual or company level to put the information you need at the forefront when making any business decisions.
Global Contacts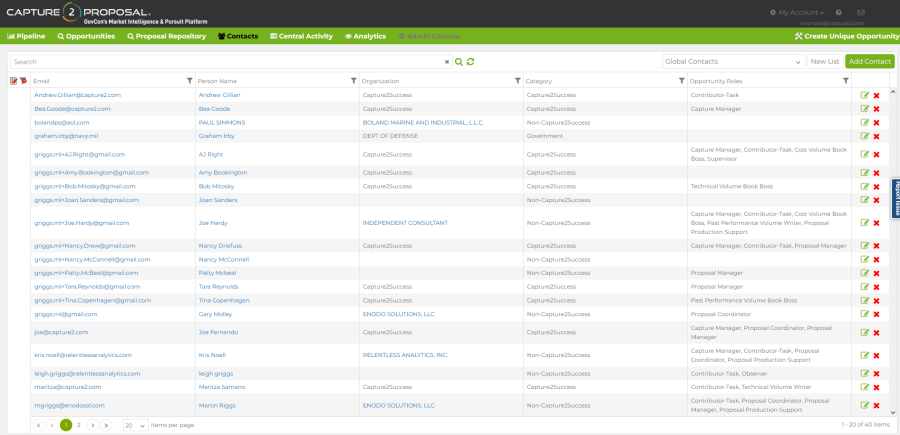 The contacts page visible in the green ribbon of the header bar is the primary list of all the contacts you have associated with your account. This list serves as a central portal connecting information on contact organizations, activities, and roles, across all of the data within our application. Easily cross-reference data to keep all the information you need to know right at your fingertips when any interactions occur!
This list is visible to all licensed users, and works as a shared contacts directory. This contact list does not give contacts any access to the app.

Create New Contact
Press the Add Contact button in the top right corner of the page.

The following pop-up will appear. Enter the user's email address first and the remaining information will autofill wherever possible based on the email address.



Make any additional changes you'd like.
Press

View or Edit a Contact

You can click a contact's name, email, or the edit icon on the contact row to view and edit the contact's details.

Please note that clicking the name or email anywhere in the application where it is shown with a hyperlink and this view will open in a new browser tab.

Edit any fields necessary.
Press

Delete a Contact
Only the Business Manager and Business Manager - Admin accounts have permission to delete contacts from this page.
Press the X icon on the row for the contact in the contacts grid.
Before a contact is deleted, you will be shown all opportunities where the contact has a role, and given the option to reassign all active roles to another user (new or existing) using our Bulk Reassign option.

If reassignment is selected, you will be sent to the admin console bulk reassign screen to complete the process.
If reassignment is not selected, the user will be deleted and their roles will not be reassigned to alternate users.

After the user has been deleted, any completed work by that user will show their name with an "(inactive)" tag following it to indicate that the user is no longer active in your Capture2Proposal instance.

Contact Roles and Activities
View all the roles any contact has within your company's C2P instance in the contact view to see how active your relationship is with the contact. View and create activities for the contact directly from this page as well!

View Contact Roles Across All of Your Opportunities

The Opportunities tab will show you any roles the contact has with in your organization. This is a great way to quickly see which roles a contact has held on past or current opportunities within your pipeline. 

View and Create Activities
Activities can be associated directly with contact(s) alone, or with contacts and opportunities. This means that you can create activities that show your relationship with a contact even outside any teaming you've done or have planned on specific opportunities.

In the Activity tab in the contact view, you will see a list of all activities associated with that contact. This view shows what they're working on right now, how they're progressing, and can help you determine what type of work you'd like to continue with this contact.
Use the green "Add Activity" Button in the top right corner to add a new activity associated with this contact. Select whether to associate it with an opportunity, or leave it with no activity association. You can always edit this value later if needed. Follow the instructions for creating an activity here to learn more about creating activities.

Modify the Grid View
Organization Profiles
Keep information on your teammates (or competition!) right at your fingertips, including their government award dollars, contract vehicles, and available contacts.
Whenever you see an organization name that is a hyperlink, you can click on it to view the Organization Profile in a new browser tab. This is most often the case when viewing from a contact within an organization, or the Federal Spend Analytics views.

Organization Profile

The organization profile overview tab shows you key corporate data for the organization, showing you what vehicles they're on, where they're located, and who their government contacts are quickly.
View all contacts associated with this organization by either your organization or C2P. Click the add contact icon by any C2P-loaded contact to add them to your global contacts as well.
 When viewing an organization that is saved in your contacts, you can edit data by clicking in any editable field, and add other information you have on the company, e.g., edit the address to match the office location you deal with most.

Full Edit/Replace allowed on organization name, address, corporate URL, and phone.
Edit to add fields allowed for Contract Vehicle and Self-Reported Set-Asides; you cannot remove data C2P has placed in these areas.

Organization Analytics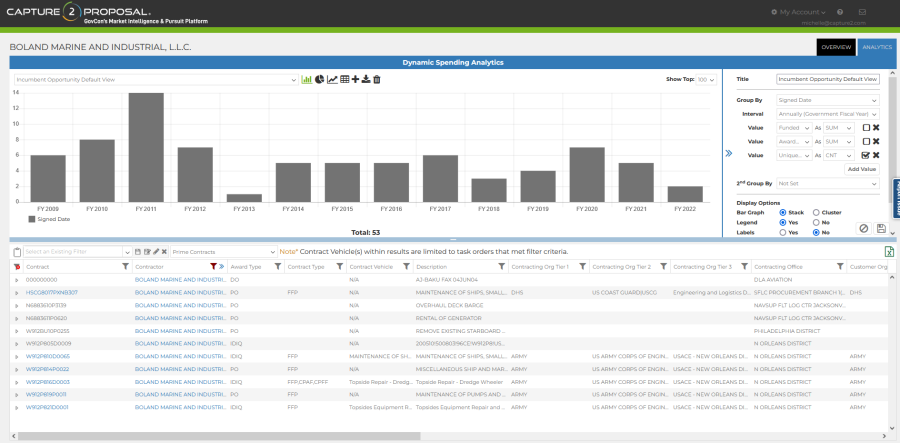 View federal spend data for the Organization by clicking on their name wherever it appears as a hyperlink and selecting the Analytics tab in the top right corner.
Any graph component created for federal spend data can be loaded to the view, or build new views to answer your questions, e.g., how much money has this organization won on the SeaPort-NxG contract vehicle to date?
Select from three important data views:

All awards on which the selected organization won work as a Prime
Any reported work performed by subcontractors on the organization's prime contracts
Any reported work the organization performed as a subcontractor

Filter data, select varying views, and capture exactly the content you need to make your teaming and bidding decisions
Download data and views you want to share with users outside your company's licensed users, to include both graphs and excel data loads